Double Kayak Roof Rack | Holds 2 Kayaks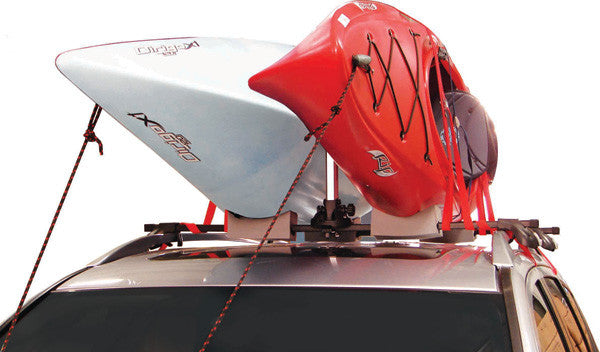 Double Kayak Roof Rack | Holds 2 Kayaks
$139.99
$139.99
Regular price
Retail:
$159.99
$159.99
Sale price
You Save 13%
In stock

Inventory on the way
---
Product Highlights
Easy and secure way to transport 2 kayaks
Universal clamps fits round, square, and oval crossbars
Folds down when not in use for better aerodynamics
Rust proof aluminum design is weather resistant
Assembles in minutes with no tools required
160 lb weight capacity 


Holds kayaks up to 32" wide
The Double Kayak Roof Rack is a great kayak transport solution if you need to carry 1 or 2 kayaks and have a built-in roof rack on your vehicle. Made from Aluminum and Nylon, this is a rust-proof rack and is one of the sturdiest kayak roof racks of its kind. The Double Kayak Roof Rack is designed to carry up to two kayaks on their side - this allows you to fit 2 fairly wide kayaks together on the same vehicle! This kayak roof rack works using three main components: foam blocks, vertical supports, and tie down straps. The foam blocks are specially cut pieces of foam designed to contour to the bottom of your kayak and provide your boat's hull protection from the hard crossbars. There are special cutouts on the bottom of the foam blocks that allow it fit on a variety of types of crossbars. You will set your boat on its side on top of the foam blocks. The vertical supports are 2 aluminum "beams" that act as support pillars for holding your kayaks in place. Each vertical support bar latches on to your built-in crossbars to provide a secure hold. With your kayaks resting on the foam blocks, you will use the tie down straps to secure your boats to the vertical support bars. There are also additional straps provided for bow and stern straps to provide you that extra level of comfort and security.  The entire rack system can be setup without tools in just a few minutes! This makes it great for frequent removal ortransferring to other vehicles. But, if you don't want to take off the rack, the vertical support bars are able to fold down which will improve your vehicle's aerodynamics, and thus, gas mileage.