Triple Freestanding SUP & Kayak Rack | Vertical Storage for Retail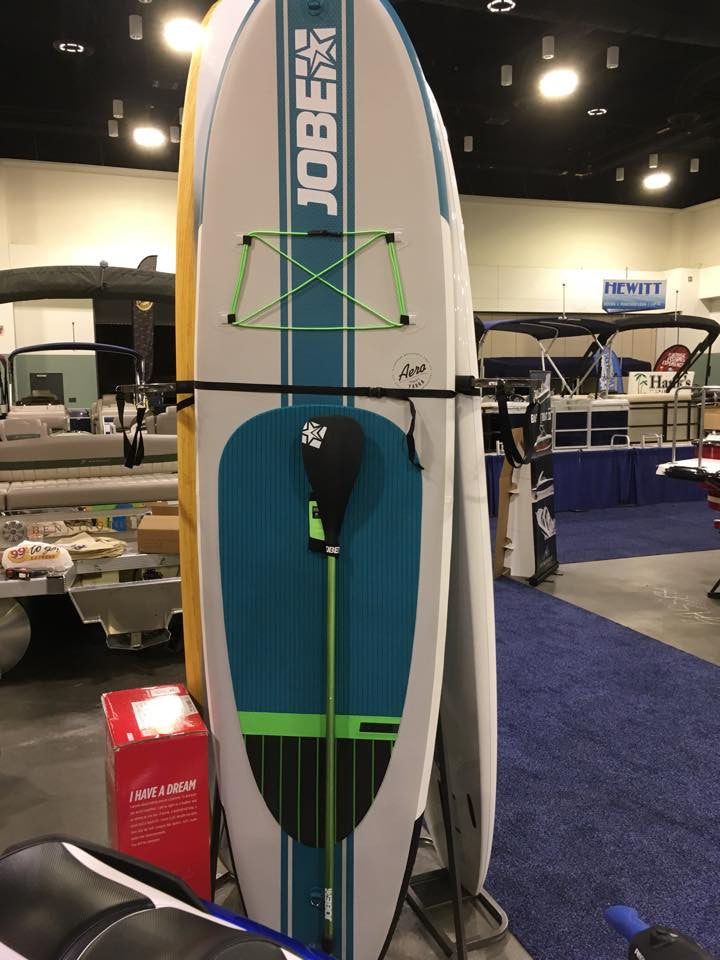 Triple Freestanding SUP & Kayak Rack | Vertical Storage for Retail
In stock

Inventory on the way
---
Product Highlights
Vertical rack holds 3 kayaks or up to 6 SUPs
Solid steel design supports up to 250 lbs
60" adjustable straps secure your watercraft
Great for retail shops, trade shows, indoor or outdoor
Protective padding prevents scratches
78.5" x 48" x 48"
Fits boards and kayaks up to 36" wide
NEW updated design for 2022
A vertical storage solution for kayaks and SUPs Save space by storing your kayak or paddle board standing up. There's no need to take up extra floor or wall space with a boat or board stored horizontally. This Kayak and SUP Rack also gives your equipment a unique look. It's great for showing off your kayaks and paddle boards, whether in a garage or on a showroom floor. The rack makes a perfect addition to retail stores, rental shops, and even trade shows like Surf Expo and Outdoor Retailer.
Fits 3+ SUPs or 3 Kayaks This rack has three compartments for you to stand 3 kayaks or up to 6 paddle boards depending on product placement, size, and accessories attached. Your kayaks or paddle boards are secured with a safety strap in the center and outer parameter. 
What size SUPs and kayaks will it fit?
Height: the recommended maximum length (height when standing in the rack) for SUPs and kayaks is 11 feet. Also make sure your ceilings are tall enough to fit your boats/boards.
Width: SUPs and kayaks up to 36" will fit in the rack.
Thickness: Most standard paddle board and kayak thicknesses will fit in the rack no problem
Weight: Each of the three rack compartments holds up to 80 lbs, for 250 lbs total. Max weight per kayak is 65 lbs.
How many kayaks or SUPs can I store?
Kayaks: This rack has 3 compartments to stand 3 kayaks weighing up to 65 lbs each and 11 feet length.
SUPs: This rack holds up to 6 SUPs. Depending on the thickness of your SUPs, if you insert them at slight angles you can fit 2 SUPs in each compartment for a total of 6 SUPs.
Designed to protect your equipment The Kayak and SUP Rack is designed with padding in several contact points to ensure your kayaks and SUPs are protected. There are 8" long pads along the top of the rack to protect your equipment and hold it in place. Buckling straps that adjust to 60" hold your kayaks and SUPs in the rack while they stand, acting as an extra level of security. The pedestals at the bottom of the rack have a 4" wide cushion on which your boats and SUPs rest, keeping them padded and off the ground.
Great for indoor or outdoor use This rack is made from sturdy, powder-coated steel, making it suitable for use indoors and outdoors. Put it in your garage, on your showroom floor, or even on your dock! If you're using this rack indoors make sure that your ceiling is 12' or greater if you're storing boards or kayaks long enough to reach the maximum height limit! Prolonged outdoor exposer to saltwater may cause rust.